The World Food Program should clarify its plan to eradicate hunger from the world So I'll sell $6 billion worth of shares: Tesla owner's offer.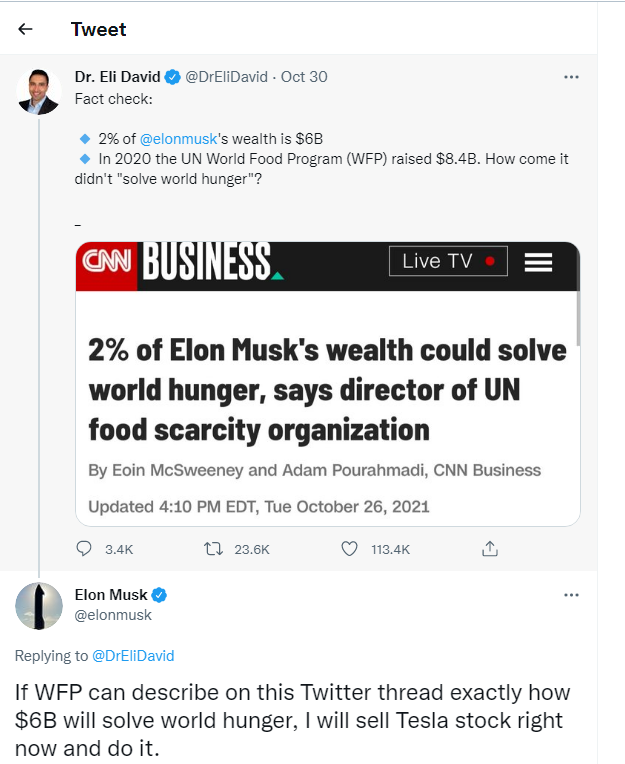 Elon Musk, the world's richest man, has announced a $6 billion donation. According to the details, Elon Musk, the richest man in the world, was ready to sell 6 billion dollars worth of shares to end hunger from all over the world.
Participating in a discussion on the social networking site Twitter, Elon Musk said that the World Food Program (WFP) needs to clarify how 6 billion dollars will be used to end global hunger. In addition, it is important to ensure that everyone is able to see for all expenditures from World Food Program funding.
Elon Musk suggested that if the World Food Program (WFP) has a plan to end hunger, he would sell 6 billion dollars worth of shares at once.
It should be noted that Elon Musk is the richest and only person in the world with a fortune worth more than 300 billion dollars. The total wealth of the owner of the Tesla company is currently estimated at 311 billion.
After the extraordinary increase in Elon Musk's wealth over the past few days, David Beazley, director of the United Nations World Food Program, said in a statement that a small portion of the wealth of billionaires could solve the world's hunger and poverty. He appealed to the richest people in the world to come together only once. He specifically named Jeff Bezos and Elon Musk and said that only 2% of Elon Musk's wealth could solve the problem.
After announcement of Elon Musk, The Executive Director for the UN World Food Program, David Beasley said, Headline not accurate. However it will stop geopolitical instability, mass migration and save 42 million human beings on the brink of starvation. An unparalleled disaster and a perfect storm due to Covid/conflict/climate crises.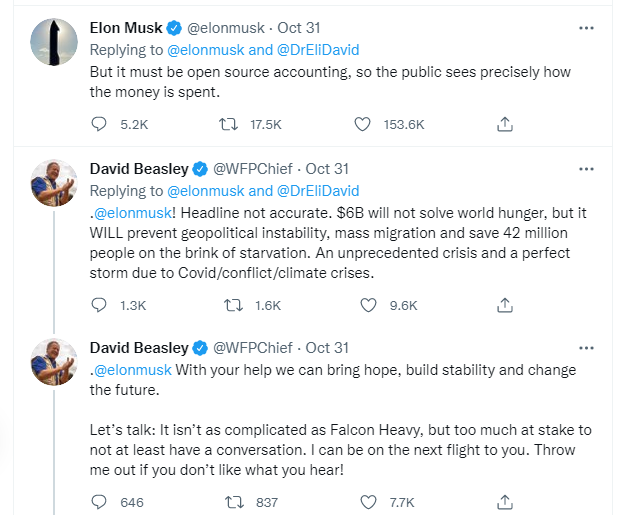 But With your help we can convey hope, build balance and change the future.
This is the fact for millions of people. I do not suppose the world realizes the gravity of the disaster at our doorstep.42 million human beings in dozens of countries are marching towards hunger TODAY. #Afghanistan, #Ethiopia, #Madagascar, #SouthSudan, #Yemen and many more.